'My New Haircut' is episode 20.
Luigi is tired of being bullied by his friends about his baldness and decides to take action. He finds himself in a barber shop where he gets "The coolest haircut ever."
Characters Present
Plot
Mario, Jack, Sylvester, and Luigi are enjoying the nice weather when....Luigi mentions that he doesn't like windy days. Jack goes into a theory stating Luigi doesn't like windy days because his hat will fly off and his bald head will show. He then states that he hates bald people, even though he, himself, is bald. While Luigi names the insecurities of his friends, his hat flies off in the wind, causing everyone, even bald Jack, to laugh at him. The next day(I think), Luigi goes to Matthew the barber who shows him? haircuts. He selects " the coolest haircut ever" and Matthew gets to work(with Luigi screaming all the way).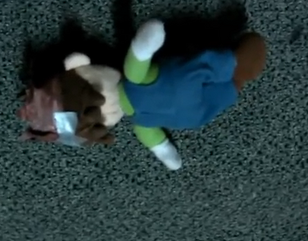 Luigi comes home and decides if he's going to have a cool haircut, then he can act cool, too. Luigi buys some coca cola and Jack follows him in, very exicted about the new Nightmare Before Christmas video game. As part of his cool act, he Lifts Weights (Which jack does, too). After that, he walks into the bathroom and goes and gets a 1-up. But he fails because they were all out of them.Luigi then succeeds at finding 1 Star. he uses it, causing him to 'fly'.
After that he finds himself on the floor.  Mario walks in and sees the sight! Luigi shakes his head in suprise, causing his hair to fall off! He is discouraged.    
Trivia